Upholstery Cleaning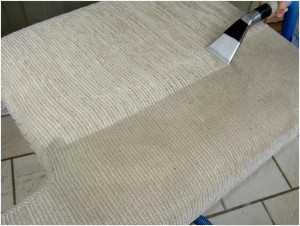 Homeowners know that keeping surfaces in their home free from dust and soil is an everyday task, but often their upholstery is overlooked. To preserve the fabric's color, appearance, and texture, upholstery cleaning should be attended to on a regular basis. In addition to routine vacuuming and immediate attention to spills, periodic cleaning by a professional at Freedom® every one to three years will extend the life of furniture, as well as help to maintain a clean and healthy indoor environment.
Identify Cleaning Codes
The first place to start when preparing to clean upholstery is to identify its cleaning code. This code will inform you what kind of cleaning is suggested. The cleaning code for a couch or chair is typically found underneath the cushion of the base:
"W" – This fabric is compatible with water, and will tolerate a water-based upholstery cleaner.
"S" – Water should not be used to clean this fabric. It must be dry cleaned with cleaning solvents. Professional cleaning is highly recommended for this type of furniture, which should be regularly vacuumed or brushed to prevent a buildup of soil.
"S/W" – This code means a combination of dry cleaning solvents and water can be used. Spot cleaning can be done with upholstery shampoo or foam from a mild detergent, provided the fabric is not saturated.
"X" – This code is seen more rarely, and indicates the furniture should never be cleaned with water or solvents; vacuuming is necessary.
Allergy Control
In a home with allergy-sensitive individuals, upholstery cleaning should be done more often. Indoor allergens such as dust mites can be controlled through regular cleaning of all surfaces in the home, and upholstery cleaning is no exception. Keeping drapes clean is easy:
~ Brush down furniture lightly with a fabric brush as often as you dust the rest of your home.

~ Alternatively, you can use the brush attachment on a vacuum.
Stain Treatment
If you've stained the upholstery on a favorite chair, keep in mind this stain is much different than a stain on your favorite t-shirt. While stains on most of your clothing can be easily treated and washed out, stains on upholstery are much harder to remove for a few reasons:
~ Many fabrics can't come into contact with water, or else they will be irreparably damaged. This means spot-cleaning minor stains on your upholstery or drapes requires more preparation and a different approach from cleaning stained clothing.

~ While it might be easy to throw out your old stained t-shirt and buy a new one, drapes and furniture are an investment of hundreds to thousands of dollars, and the right maintenance will help them last as long as possible.

~ If you decide to hire a professional to treat your upholstery stain, you'll get the best results if you've been maintaining the furniture with regular dusting, brushing, and rotating seat cushions.
To keep a healthy, clean indoor environment, upholstery cleaning should not be overlooked. Whether you've just bought new furniture or are looking to maintain their appearance and quality, be sure to add upholstery cleaning to your routine housekeeping. Finally, to keep your upholstery looking like new, schedule regular visits with a Freedom professional today.