Mold: The Good, The Bad and The Normal??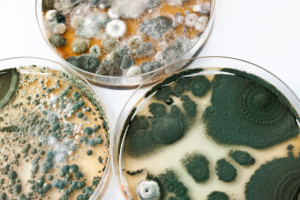 Whether you know it or not, mold is all around us. I know weird right? Mold automatically gets a bad rap when brought up in a conversation, but is it all bad though? Mold can be classified into three categories good, bad and normal.
Good mold has proven its worth  in the food and pharmaceutical industries. Most people often overlook good mold until they asked for that bleu cheese dressing on the side or take antibiotics when they're sick.
Normal mold  is just as the name suggests, it's neither good nor bad. There's two types; Airborne mold spores and Mold growth. At any given time, there is some degree of airborne mold spores openly floating in your household, sneaking their way through any gap such as open doors, windows, even the clothes on your body! The other type Mold growth occurs from a day to day basis and could range from mildew in the shower or that weird looking black stuff you see on your window track.
Now for the part you've been dying to hear, the Bad Mold mold growth in a home is considered a bad thing when it starts growing on a sustainable food source and is potentially affecting the air with elevated mold spores. ( this is different from the normal airborne mold spores) The food sources could be anything from the drywall up to the contents of your own home. When it reaches this level, it may be too much for the average homeowner. Killing mold is simply not enough because even dead mold is still considered an allergenic, some are potentially toxic.
Freedom Restoration has been certified by the Institute of Inspection, Cleaning and Restoration Certification (IICRC) in mold remediation. The proper removal of a mold problem is a very technical process and requires the right equipment. We consult with indoor environmental professionals as required to determine the extent of the mold infiltration and remediation procedures. After we have completed the work, we use clearance tests to verify that the job was done properly. Whether it's called mold, mildew or black mold, Freedom Restoration treats all types of mold problems.