Leather Care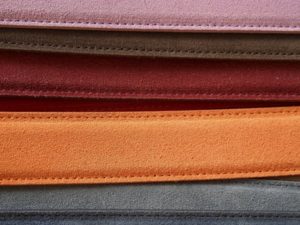 Cleaning is an essential part of caring for your leather whether in your car, Yacht or your home. Not only does cleaning remove dirt and oil (which can, overtime, break down the leathers protective coating) but will also help to maintain the condition and moisture balance in the leather.  This is important for keeping the leather supple and makes it less likely to absorb spillages.
Dirt and body oils that remain on the leather's surface for prolonged periods are the main cause of damage to leather. Dye transfer is of particular concern to owners of pale and cream interiors. The best way to ensure your leather remains in the best condition is to ensure that it remains clean.
Using our range of leather cleaning and protection solutions will help inhibit the absorption of dirt and oils and make your leather easier to clean.
Maintaining your leather interior with our unique products will take less than 10 minutes of your time.  All our care products are water based and contain everything necessary to keep your leather in the best condition.
Leather is one of the strongest upholstery materials there is ,if looked after
correctly, will last a long time. Taking time to protect and clean your leather will
maximize its life and keep it looking good for many years.

WHAT ARE THE VITAL DO'S AND DON'TS FOR LEATHER CARE?

LEATHER CARE DON'TS
•Don't feed, nourish or condition your leather with oils or waxes
•Don't allow dirt or soiling to build up …. This is what causes the damage
•Don't allow dye transfer build up on pale leathers
•Don't use general household cleaners
•Don't use solvents or abrasives to attempt to remove stubborn stains or Ink
•Don't listen to old wives tales about leather
•Don't allow staining or fading to become serious before considering professional restoration
•Never use baby wipes or magic erasers to clean your leather
LEATHER CARE DO'S
•Always blot up spills asap  without excessive rubbing
•Always treat with Leather Protect or Ultra Protect from day 1
•Always clean high wear areas little and often (Leather care kit is ideal and takes just 5 minutes)
•Always use water based products – these will correct the moisture level of the leather and help avoid staining. They will also keep your leather in the best condition
•Have your leather professionally  cleaned at regular intervals. ( Usually once per year )